Now be honest, before moving to this region, had you ever heard of Nuremberg's most famous son, the Renaissance Artist Albrecht Dürer? I, for one, hadn't. My limited knowledge, a tad biased towards modernist artists, includes Kandinsky, Jasper Johns and Vedova, but also Titian and El Greco. And, of course, everyone has heard of Michelangelo and Leonardo da Vinci. But Dürer? As the song1 goes, "Albrecht, Albrecht, who the f*** is Albrecht?" But after writing this article, I'm now converted! Oh, great master Albrecht; you were truly magnificent.
Supremely Gifted and Prolific
Albrecht Dürer, one of the greatest German Renaissance artists and printmakers of all time, is renowned for his highly detailed woodcut prints, metal engravings, and drawings. His works, which are held in high esteem by art historians worldwide, often depicted biblical scenes and religious iconography, as well as commissioned portraits of rulers such as Emperor Maximilian I. In this article, I'll cover some interesting facts about Albrecht Dürer that everyone should know, from his relationship with Nuremberg, to what he is famous for. I hope you, too, can gain an appreciation for Albrecht Dürer like never before.
Supremely gifted, highly intelligent, prolific, and versatile are just some adjectives used to describe Dürer. His accomplishments are simply astonishing.
His self-portrait, aged 13, makes him the first artist to portray themselves whilst still a child. He was also the first to create a floral still-life and the first to paint an animal still-life. Possibly the first to paint a landscape just for the sake of the landscape. Furthermore, Dürer was the first German artist to make a nude portrait from a live model and the first artist to draw themselves naked. His genius extended to mathematics and proportion, on which he wrote books providing the first theoretical treatise in German on drawing, painting, and perspective.
His Artistic Achievements
Dürer never stopped drawing and, in his life, produced thousands of sketches. He created an astonishing 844 paintings. (Compare Michaelangelo: 184 paintings and Leonardo: just 15 paintings). Some of Dürer's most famous works include The Hare, an intricate study in which he manages to convey both tranquillity and tension. His Praying Hands is now probably the most reproduced piece of artwork ever and today is used in all manner of ways, from gravestones to tattoos. Then there is his self-portrait from 1500 when he was aged 28. If you notice a certain similarity here with images of Jesus Christ, you won't be alone. Today many of his original works are held at the Albertinum in Vienna, others in the Alte Pinakothek in Munich, and many are spread around the globe in museums such as the MET in New York. So who was this inquisitive, audacious, and experimental pioneer?
Dürer's Life and Personality
Dürer was the son of a successful Goldsmith who emigrated from Hungary to Nuremberg. At that time, Nuremberg, being at the confluence of several trading routes, became one of Europe's most important, prosperous, and artistic cities. This is where Albrecht Dürer Senior raised a family, fathering 18 children, of which only three survived. Initially, the younger Albrecht trained as a Goldsmith like his father, but his precocious talent for drawing led him to take up an apprenticeship with Michael Wolgemut, Nuremberg's leading artist of the day. Dürer was very self-assured, liked to push boundaries and took great care of his self appearance. He lived at a tumultuous time around the turn of the 15th century when many saw floods, plagues, eclipses, and comets as signs for the coming end of the world. This suited Dürer's tendency towards dramatic representation in his work.
Following his apprenticeship, he spent four years travelling through Northern Europe. He returned to Nuremberg and, at his father's request, married Agnes Fry, the daughter of a wealthy merchant. By all accounts, the marriage was not a happy one and remained childless. In letters, Dürer referred to his wife as an "old crow". His friend Willibald Pirckheimer, a wealthy and prominent figure in Nuremberg and Imperial councillor, also made no bones about disliking her. He referred to her as a miserly shrew with a bitter tongue and accused her of causing Dürer's premature death at the age of 53. Based upon intimate correspondence with close friends, there is some speculation that Dürer was either bisexual or homosexual.
Woodcuts and Printmaking
During his early career, Dürer concentrated on woodcuts. Using conceptual constructs, supercharging dramatic effect, and expanding tonal range, he raised printmaking to an art form and is considered by some to be the best printmaker to have ever lived. This is exemplified by his famous religious series, including The Apocalypse in 1498. Later works, Knight, Death, and the Devil and Melancholia I, the so-called Meisterstiche (master engravings), are so full of codes and symbolic games whole books have been written to explain them.
Dürer's Intellectual Feats
But how did Dürer manage such intellectual feats? As the son of an artisan, he received only a basic education with no Latin, Greek or classical training. It was his sharp wit, wide-ranging intellect, acute observational skills and obvious talent which earned him the respect and friendship of prominent societal figures. Dürer gained much of his classical knowledge and humanist critical methodology through many discussions and regular correspondence with his friend Willibald Pirckheimer.
Dürer made two extended trips to Italy, the centre of the European Renaissance, where Michelangelo, Leonardo da Vinci, and Raphael were contemporaries. These trips influenced Dürer's work greatly, and he managed to fuse both North European Renaissance aspects, which focussed on naturalistic interpretations, with Italian classical motifs such as proportion and perspective into his work. His were the first non-Italian works of art to incorporate modern philosophical, scientific, and religious concepts. 
Dürer manifested an intense pride in his ability. Yet, on his travels in Venice, he would lament that in Germany, as a non-noble, he was nevertheless treated as a parasite. When in 1508, Maximilian I became Holy Roman Emperor, he wanted scholars and artists to be treated with more respect. In 1511, Dürer became an official court artist, and so the story goes, one day, he was standing on an unstable ladder. The Emperor, standing nearby, requested a noble to hold the ladder whilst Dürer painted. The noble refused, saying it was beneath him to serve a mere non-noble. Maximilian took hold of the ladder himself commenting,
"I can make a noble out of a peasant any day, but I can never make an artist like Dürer out of a noble."
Dürer's Fame and Social Status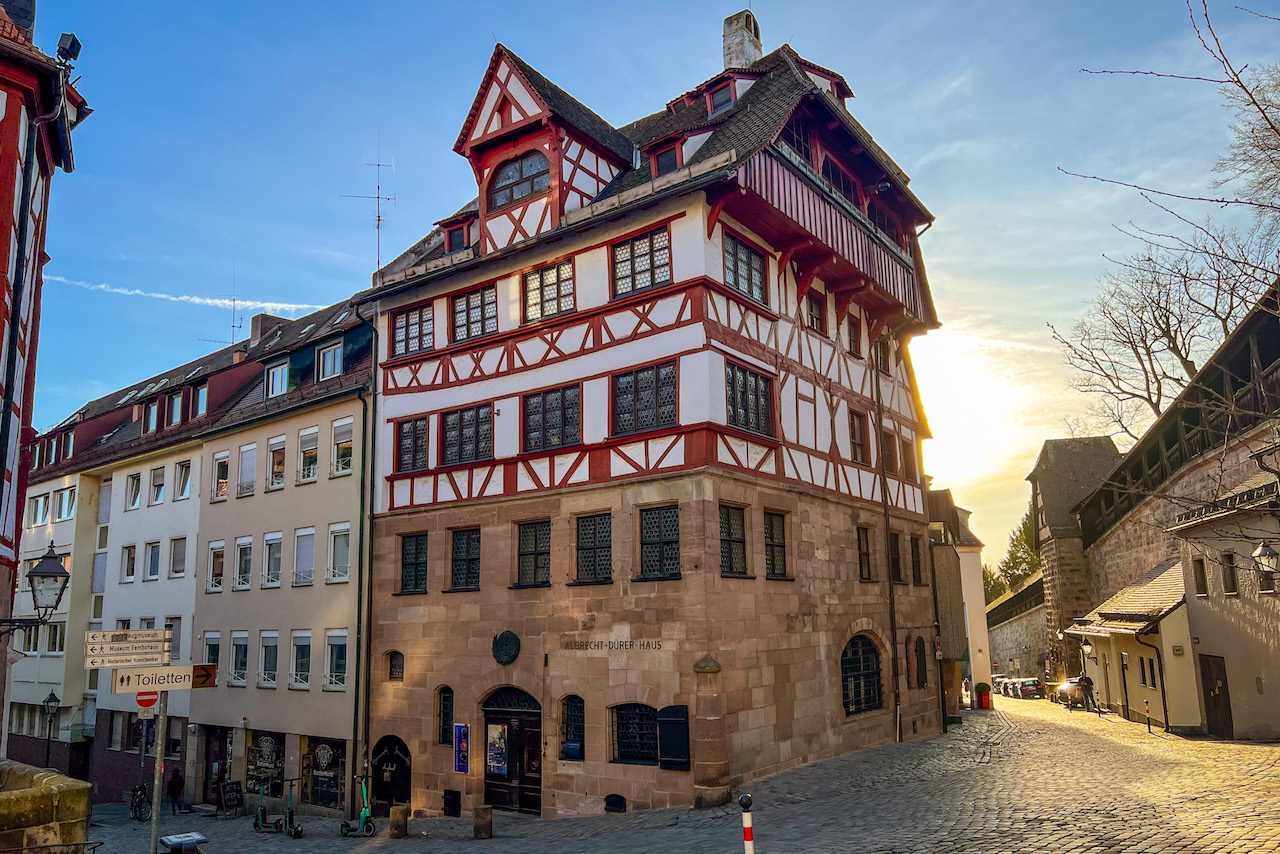 Dürer became famous in his own lifetime. Possibly he was the original celebrity artist with admirers, followers, and imitators. In his late thirties, with his growing social status, he was appointed to the Great Council of Nuremberg. He bought a house, initially built in 1420, located in the old city just below the Imperial Castle. Since 1871, it has housed a museum dedicated to the life and work of the great artist. During WW2, the house was seriously damaged and only reopened in 1971 on the 500th anniversary of Dürer's birth.
1 Originally, the song goes "Alice, Alice, who the f*** is Alice?" sung by the band Smokie and adapted from an earlier version, "Living next door to Alice".