As the vibrant art scene continues to thrive in Nuremberg, we had the privilege of celebrating the talent of one of our members. Rob Peters, an esteemed artist, dear friend, and founding member of our community. Rob recently unveiled his mesmerising exhibition, "Into the Light and Selected Paintings," at the 2Bananas gallery on Mittlere Kanalstraße. The Vernissage on Friday, June 30 was a beautiful evening, filled with support and inspiration. To shed light on Rob's artistic journey and provide a glimpse into his captivating exhibition, we present an exclusive interview with the artist himself.
A Captivating Journey to 2Bananas Gallery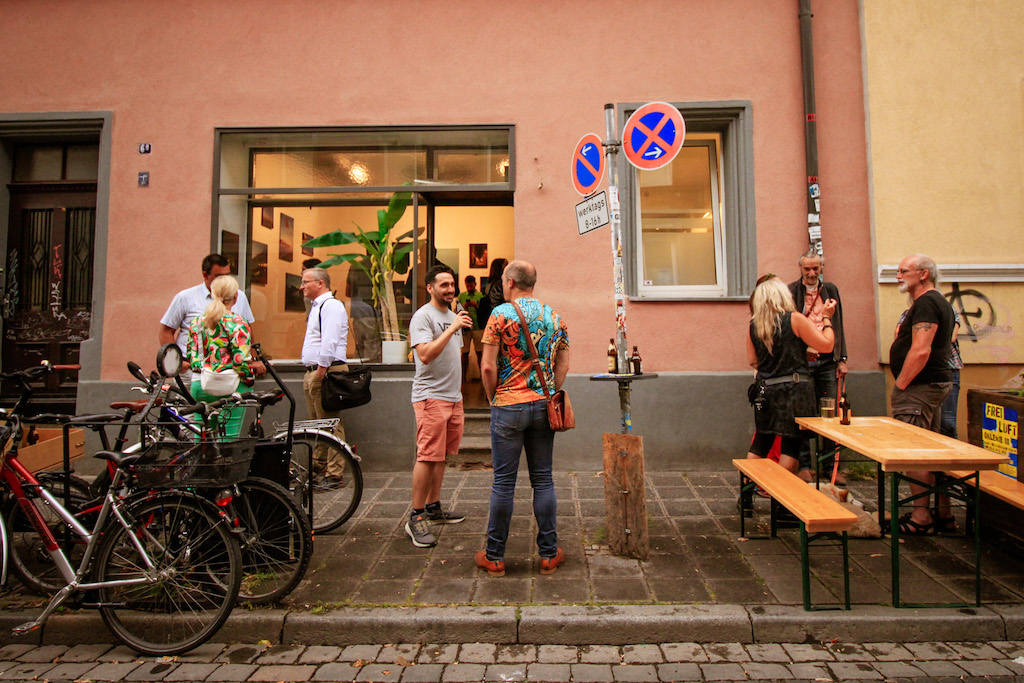 Rob Peters, an Australian-born Nuremberg-based artist, completed a Master's Degree in Fine Arts at Monash University, a testament to his dedication to his craft. His exhibition, "Into the Light and Selected Paintings," opened on June 30, 2023, and will enchant art enthusiasts until the end of July at the prestigious 2Bananas gallery in Gostenhof. Rob's preferred medium is oil on canvas, allowing him to bring his artistic visions to life with vibrant colours and rich textures.
Into the Light and Selected Paintings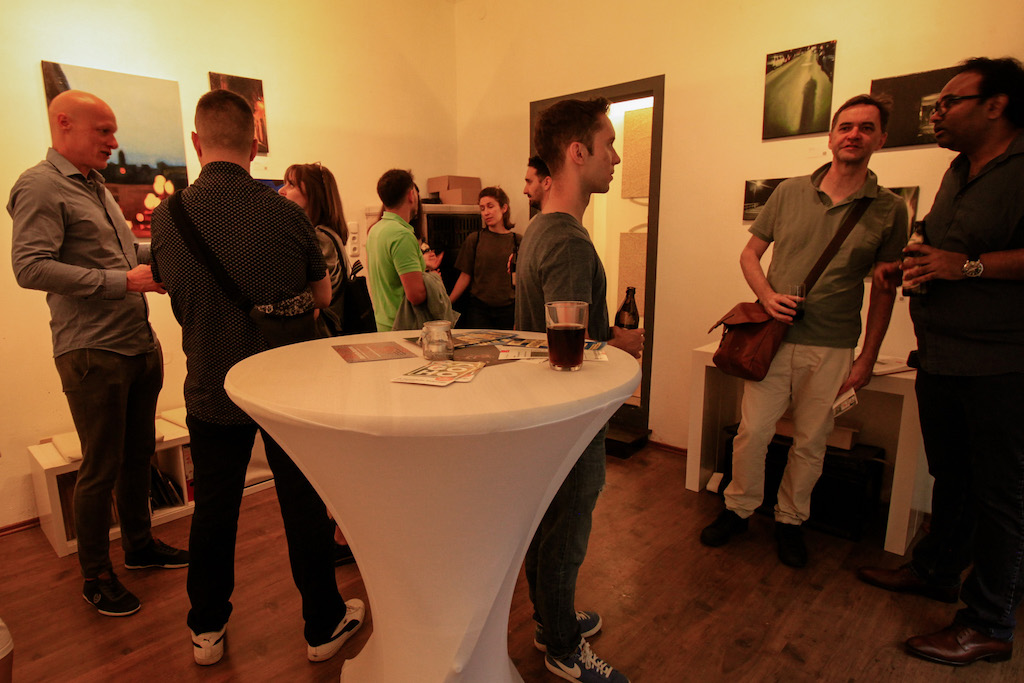 The title itself, "Into the Light," reflects Rob's developing interest in Buddhism and meditation. Each painting serves as a meditative and personal reflection on passing moments of significance and beauty, taking viewers on a journey through shifting aesthetics and emotions.
One notable piece within the exhibition is "Good night… and Sweet Dreams," which holds a profound connection to Buddhism. It portrays a single balloon gracefully being released into the atmosphere during a serene sunset. This artwork subtly encourages the development of acceptance and non-attachment in response to the transient nature of life, embodying the philosophical essence of Buddhism.
Throughout the exhibition, Rob's artwork showcases a gentle shift from nocturnal aesthetics to predominantly brighter dusk and dawn imagery. This transformation represents his evolving artistic exploration and invites viewers to contemplate the significance and beauty found within fleeting moments.
Exclusive Interview with Rob Peters
Join us as we delve into Rob's artistic journey and gain deeper insights into his exhibition.Through this interview, we aim to inspire, ignite curiosity, and foster a deeper appreciation for the boundless creativity that resides within our Global Locals community.
Melissa: Rob, thank you for taking the time to share your thoughts with us. It's evident that your journey as an artist has been a captivating one. Can you tell us a bit more about how you came to showcase your work at 2Bananas gallery?
Rob: Of course! I have been involved in the local art scene for some time now, also doing some work for the Bildungszentrum and exploring various galleries. Through these experiences, I became acquainted with Eric, the curator of 2Bananas gallery. He was familiar with my work and eventually approached me with the opportunity to exhibit here.
The Opening Night: A Night of Support and Inspiration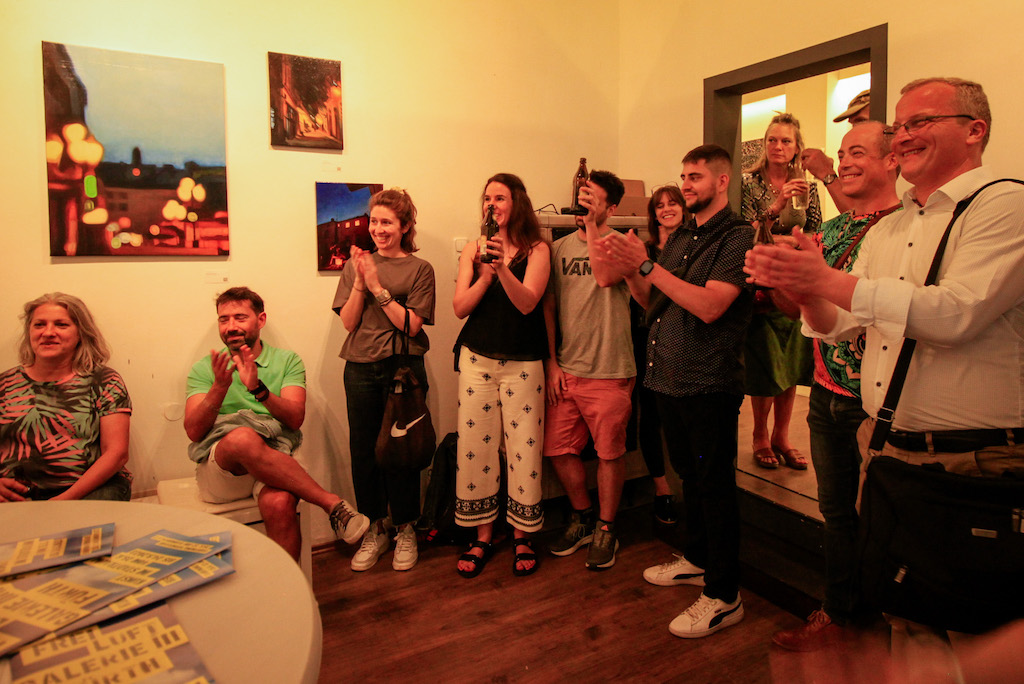 Melissa: It's incredible how word-of-mouth plays a significant role in these artistic endeavours. What are your thoughts on the turnout for the opening night?
Rob: The response has been wonderful. It's truly heart-warming to see so many people appreciating and engaging with the artwork. The exhibition runs throughout July, with Thursday nights specifically dedicated to showcasing the paintings. Although I couldn't attend the unofficial event last night, I heard it was bustling with a great turnout. Tonight's the official opening, and I'm thrilled to be here.
The Process of Setting Up: From Apartment to Gallery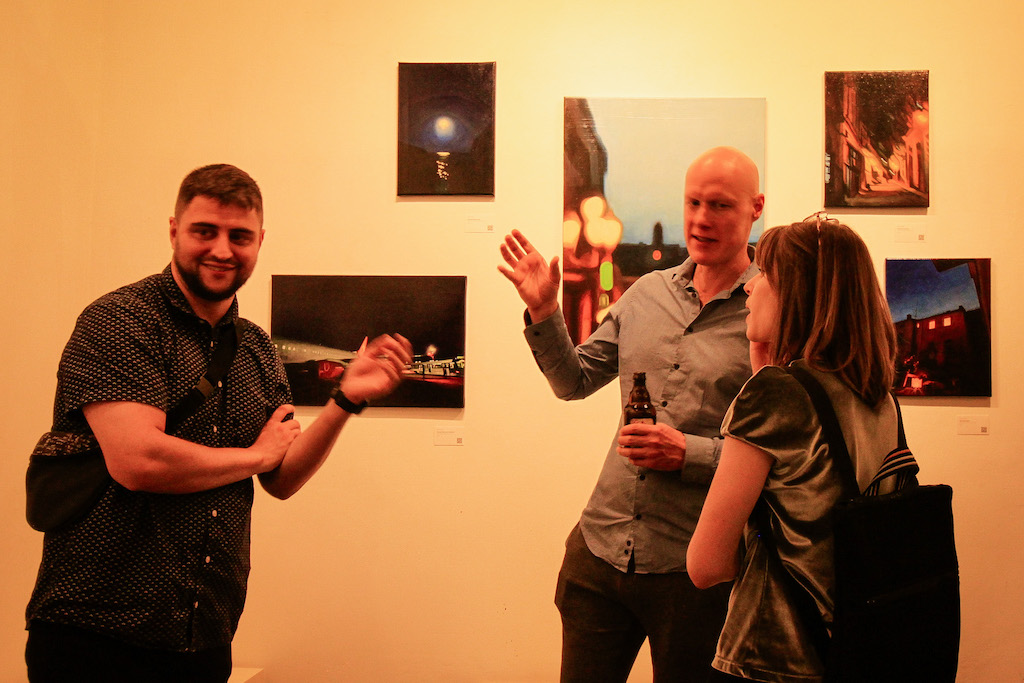 Melissa: Setting up an exhibition can be a unique experience. Can you share your perspective on the process?
Rob: Absolutely. Setting up the exhibition was full on. Just yesterday morning, my apartment was filled with paintings, and now they have found their temporary home here at the gallery. It's a bit surreal to see everything come together. However, I must admit that it created a sort of limbo feeling. I found myself caught between the excitement of the upcoming opening and everything else that I've been busy with. But now that the exhibition is hung, the excitement is building and I'm super proud to see them on the wall!
Juggling Life as an Artist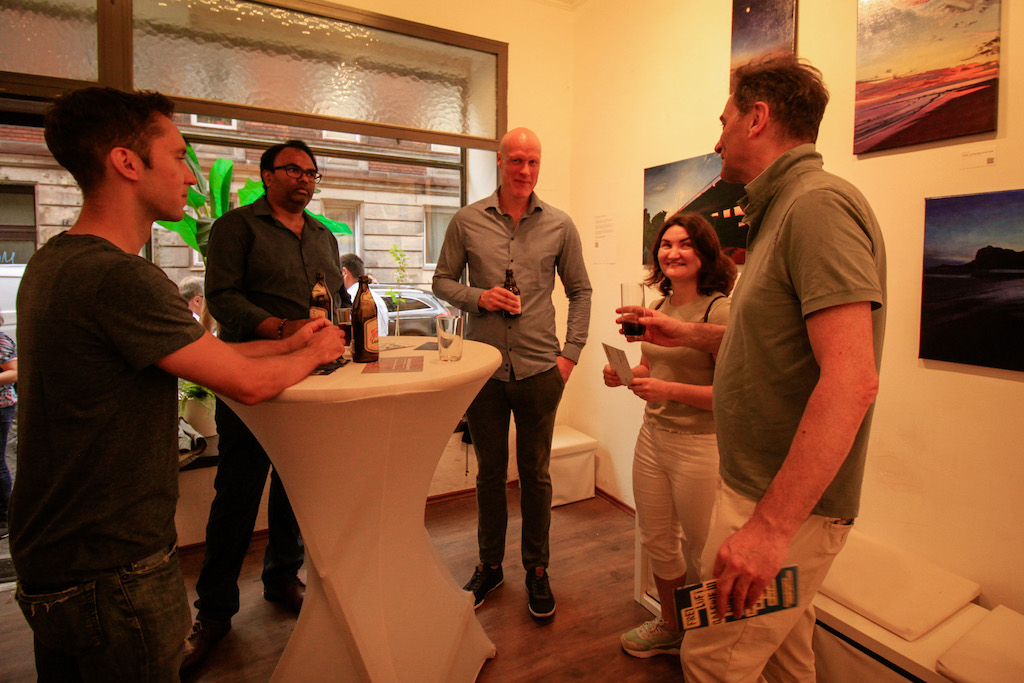 Melissa: It sounds like a busy time for you. How do you manage to juggle your job, personal life, and the demands of being an artist?
Rob: It can be quite a challenge, but I find it all rewarding. Recently, I took a trip to Greece, which was a fantastic experience. Then, there was the setup for this exhibition, and, of course, studying for my job. It's a constant balancing act. However, amidst the juggling there are thankfully moments of celebration, fun and peace. 
Melissa: Rob, one of your paintings in the exhibition depicts a bridge. Could you share the story behind that particular piece?
Rob: Ah, yes, the bridge painting. It holds a significant personal story for me. It began when a friend invited me to his house warming celebration—an evening filled with fun, beer and good company. During that evening, we went to the canal for a swim and I took a random photo, which captured the sublime sunset. The deeper layer to the story is that it marked my last workday at my former employer and I was in a somewhat peculiar and reflective mood. I was overwhelmed by a mixture of emotions. The bridge, in a symbolic way, represented the transition from one phase of my life to another, a new chapter.
Evoking Wonder and Emotion: Rob's Hope for Visitors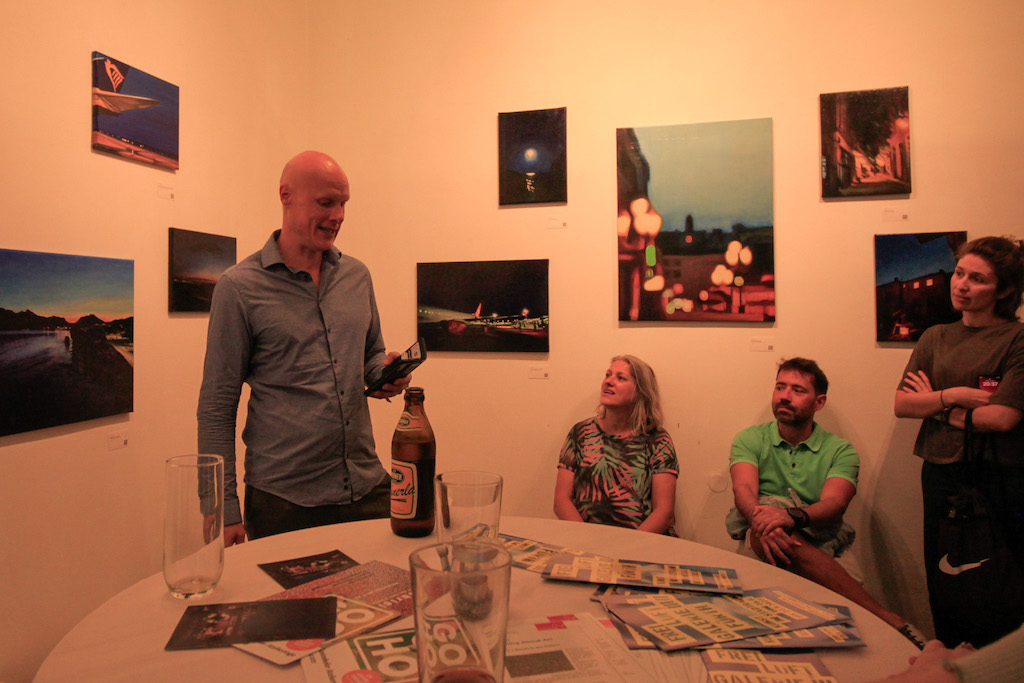 Melissa: Thank you for sharing those personal insights. As the exhibition unfolds, what do you hope visitors will take away from experiencing your artwork?
Rob: My ultimate hope is that viewers will connect with the atmosphere, emotions and narratives within my artwork. I want them to feel a sense of wonder, curiosity, and perhaps even a bit of introspection. Each painting has its own narrative, and I hope visitors find their own interpretations and connections within that narrative. I'd like the paintings to evoke emotions and spark conversations, developing a deeper appreciation for art and the human experience.
Join us at 2Bananas Gallery: A Special Gathering with Rob Peters
In light of Rob's profound artistic journey and the stories woven within his exhibition, he extends a heartfelt invitation to all our cherished Stammtisch and Global Locals members. 
Join us on Thursday, July 20, at 2Bananas gallery from 7pm onwards for a chance to show your support for Rob's exhibition while chatting with the artist himself. Click here for the event information.
Find out more about Rob here: robertpeterspainting.tumblr.com/
And on Instagram: instagram.com/robertpeterspaintinggallery/