Special thanks to Silke Lehmann for providing members of the Global Locals team with tickets to the opening film "El Eco" as well as free tickets for Global Locals members to go see "Kokomo City" on September 28. This event can be found here. 
This year, the biannual "Nuremberg International Human Rights Film Festival" (NIHRFF) returns to screens in the city from September 27 until October 4. With a diverse selection of films, documentaries, and shorts, NIHRFF delves into the heart of the human experience, showcasing stories of resilience, activism, and the ongoing struggle for justice. The festival transcends borders and languages to connect audiences with poignant narratives as discussed below. Most films will be shown at the Künstlerhaus, where there are three screens. A fourth screen at Cinecitta will also show films from this curated festival.
Many of the films have original language audio with English subtitles; some have only German subtitles, and some have both English and German subtitles. According to the festival team, "an international audience that doesn't speak German or speaks it less well should also be able to watch films with us. People from Kenya or Rwanda who are neither English nor German speakers can watch a film in their mother tongue." Information on which films are showing, when, and in which language with subtitles can be found in the printed festival program or website. The whole festival is accessible to everyone.
The 59 films presented at the festival cover a broad spectrum of themes and come from 46 different countries. As the festival director, Andrea Kuhn, says, "We don't want to represent the European or North American view of the world. We want to show how people see themselves and present themselves." Always with an eye on the current politics of the time, the films are selected for their profound impact, spawning discussion and learning rather than just conversation. But they are also chosen for their cinematic quality and visual allure. Topics range from the climate catastrophe to the current war in Ukraine, from neo-colonial exploitation and desecration of resources, i.e., environmental damage to digital surveillance. Besides showing the seriousness of a situation, the films also show courageous people who resist. "Our festival isn't about misery; it's about strength. The important thing for us is not to show victims but to show people in their complexity, people who are actively doing something. And mostly in the countries where they live, including Europe and Germany. We don't want to forget that the human rights situation here also needs improvement and we present topics where this is the case."
The team of 15 organisers, led by Andrea Kuhn, is rightly proud of their festival, which significant filmmakers revere. Many want their work to be presented if it fits the genre. They have even managed to snatch some films from more prominent film festivals and will now have their premier showing in Nuremberg.
The opening film this year comes from Mexico. El Eco (The Echo) by Tatiana Huezo is a beautiful and visually stunning film about three girls coming of age while living on the side of a mountain. Will the children continue their parents' way of life? Do they want to? What does tradition mean? What role does gender play? Are they looking for a new beginning? Where could that new beginning be? The film's assistant director, Graciela Vianoreva, will be present at the screening.
Another film about the conflict in Nagorno-Karabakh between Armenia and Azerbaijan shows not the images of war but of a place, about questions of borders and belonging.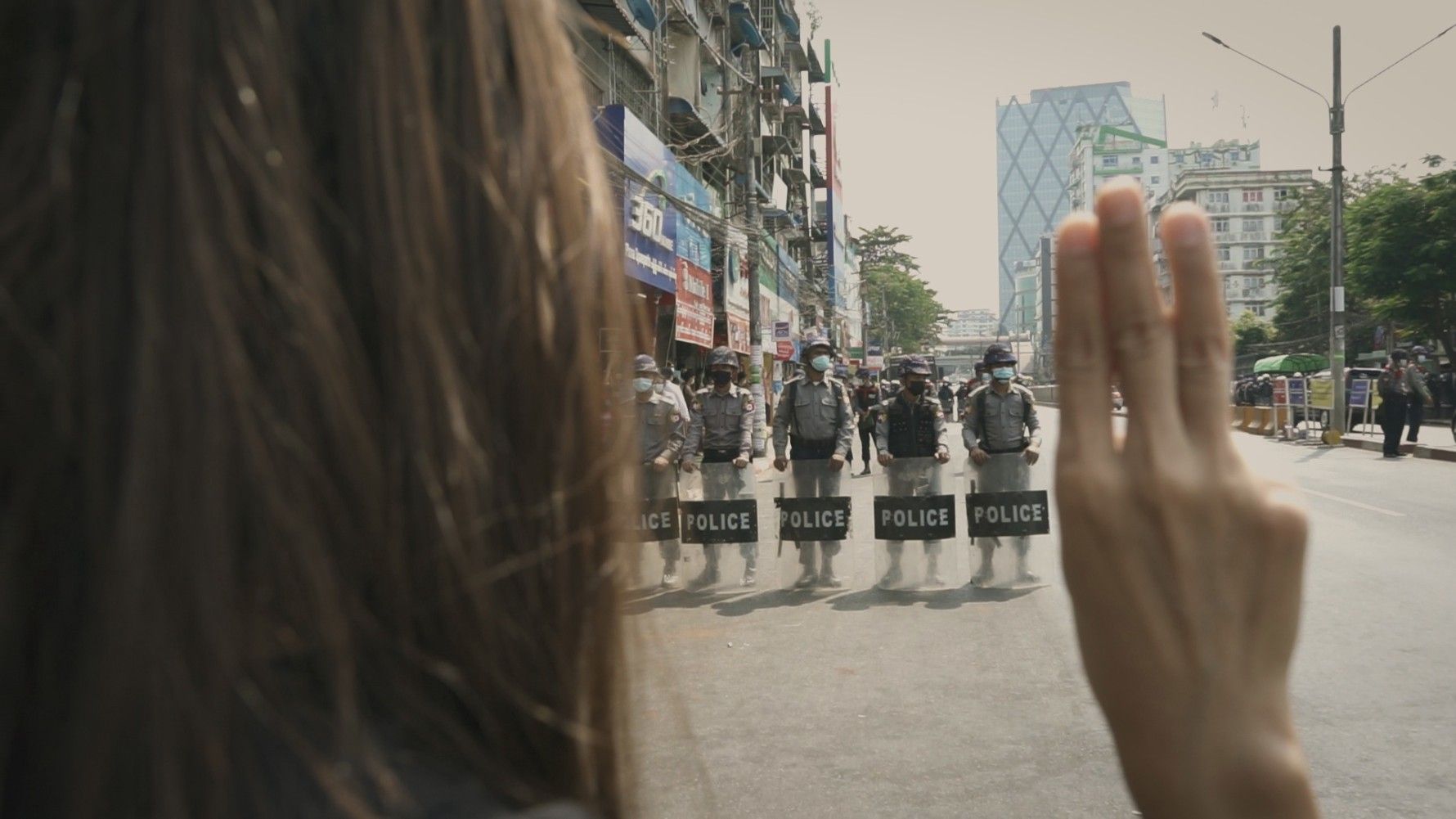 The film Myanmar Diaries is a testimony from Burmese activists, expanded by a film collective with extracts and statements. Accompanying the film are two guests from Myanmar.  If their identities were to become known, their lives could be in danger. Consequently, they are not allowed to be photographed without a mask for their security. This is another example emphasising the theme of resistance running through this film festival and its focus on courageous people, not just activists on the street.
One more film worth mentioning is a rewriting of the Robin Crusoe story by a film collective of disabled, non-white, queer filmmakers. This film neatly decolonizes the famous tale and brings to the screen a joyous, vocally powerful event. Here again, resistance comes to the fore in the very act of filming itself and above the story's actual content, making this film especially important for a festival dedicated to human rights.
Intersexual people have always been a fundamental topic of this festival, and this year one whole Queer Day is dedicated to LGBTQI issues. On September 30, three films on the issue will be complemented with a festival party from 10pm onwards.
There are also technical innovations where the film festival will be delving into the virtual world with three screenings of a 360-degree film, Water and Coltan. Here, 20 people each will have the opportunity to look 360 degrees around within the documentary film. Afterwards, attendees can talk with the director, Daniel Köttter, and Olande Byamungu from Congo, who was partially responsible for the research.
The festival is being covered from September 28, by Nuremberg's (German language) local Radio Z (95,8 MHz) in one-hour live broadcasts from the festival between 9pm and 10pm. Guests will present their films, and the festival team will discuss other topics and events of the day.
The culmination of the festival is the awards ceremony on October 3, where the International Human Rights Film Award for outstanding filmic achievement in a human rights film will be awarded to one of seven international films decided by an international jury of renowned filmmakers, along with the Audience award as well as the Open Eyes Youth Jury Award, which is chosen by a jury of Nuremberg Highschool students to select the film best suited for human rights education in schools.