The new retrospective of "British Rock Legend" Kevin Coyne, artist, musician and poet, born 1944 in Derby, England and who spent the latter part of his life living here in Nuremberg, opens today at the Kunsthaus in Nuremberg.
"Can't breathe", drawings from 1989 of people wearing face-masks. Sometimes an event comes along which uncannily seems to pull on all the strings of our time. Perhaps curator Susann Scholl simply had so much material to choose from ("the exhibition could have been much larger, maybe four times larger") that she could tailor the material to fit today's events. Then again, planning for the retrospective began four years ago, and includes a looped screening of the early experimental film by Boris Tomschiczek "One Room Man."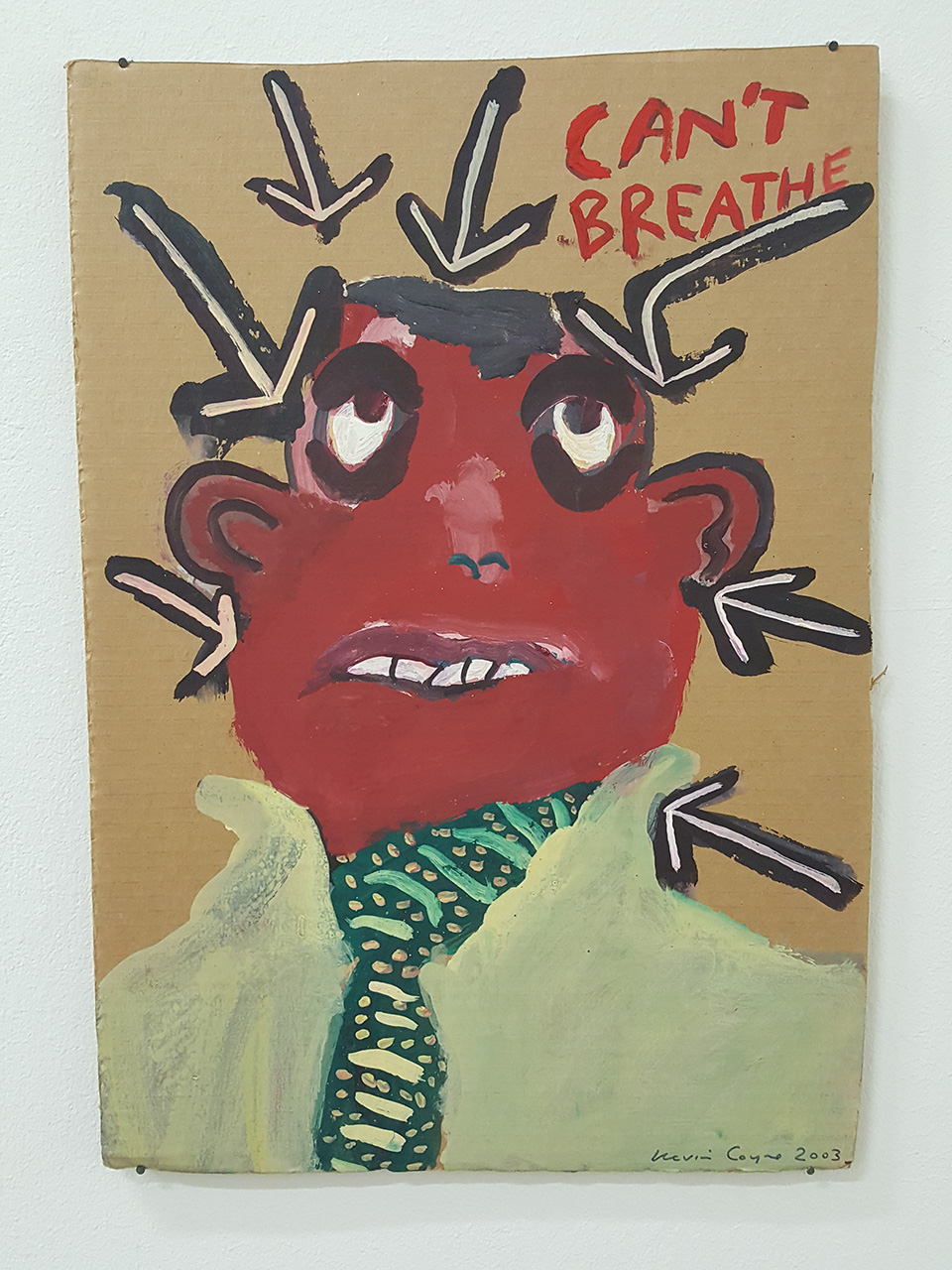 Coyne experienced many successes, recording with the likes of Andy Summers, highly praised by Johnny Rotten and even offered the role as lead singer for the Doors following the death of Jim Morrison. But Coyne also suffered from depression and alcoholism. Following a nervous breakdown set off by being overworked, he swapped the high tension lifestyle – small fish in a big pond, and became a big fish in the small pond of the Nuremberg art and music world. Incredibly prolific, he produced some 40 albums in his lifetime and an enormous and diverse oeuvre of paintings: humourous, direct, horrific, wistful, and dark. Often referred to as an outsider, a rebel, discontented, but a real original, he relished the freedom to create free from constraints. These character traits rage to life again in this well-presented exhibition of his work and life. 
Kevin Coyne died 2004 in Nuremberg. The retrospective "The Crazy World of Kevin Coyne" runs from the 26th September to the 22nd November 2020 in the Kunsthaus, KunstKulturQuartier, Königstr. 93, 90402, Nuremberg.
For details of opening times visit: www.kunsthaus-nuernberg.de
A book, published to accompany the retrospective, is at present only available in a German-language version. Also available for purchase at the Kunsthaus is a DVD of "One Room Man" by Boris Tomschiczek and the CD – "Life is Almost Wonderful."