Artist of the Month December 2020
Date: 30/11/2020
Place: At Barbara's home and studio in Fürth
Art and all different kinds of art forms have always been created to communicate important messages, but currently, many people and society have again begun to realise how important art and culture are  in difficult times – especially in times of anxiety and uncertainty. I had the pleasure of meeting Barbara Engelhard before the stricter, partial lockdown and talk with her about her experience during her artist residency period in Shenzhen, China and her past, present and future art projects. At this time, the interview felt more like a blind date under difficult conditions and with more preparation. I have regularly followed her artistic work for several years but never had the pleasure of meeting her or getting in touch with her, so I was quite excited when she agreed to meet and to be interviewed for English Post. For today's interview, Barbara has invited me into her home, where her craft room and studio are also  located.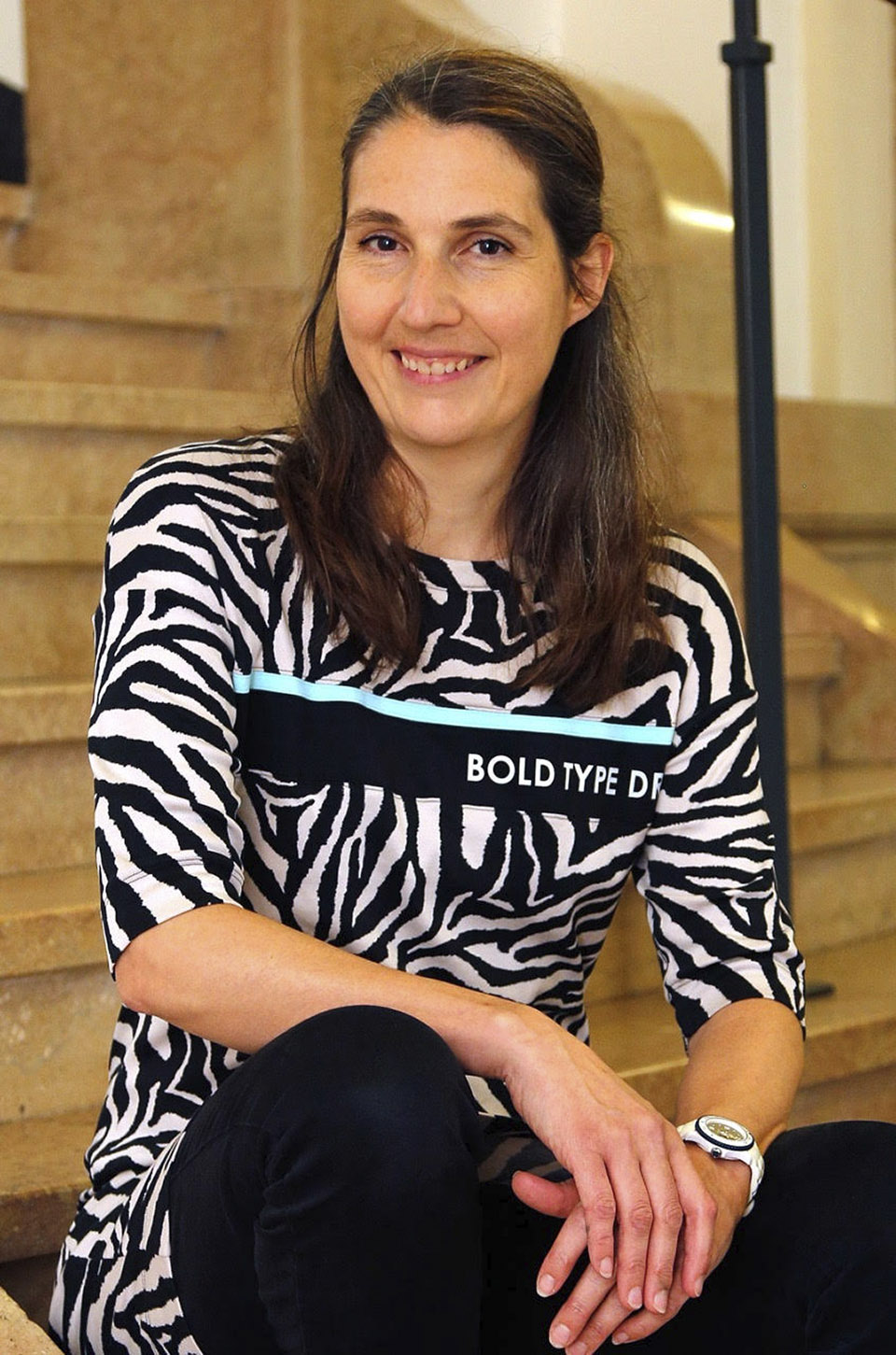 Lydia: Hello and good Morning dear Barbara, thanks for inviting me into your home and for taking the time for this interview.                                                                                                            
Barbara Engelhard: Hello Lydia, come in, it's cold outside. You are more than welcome. May I offer you some tea?                                                                                                                      
Lydia: Yes, I would love some. 
Lydia: So, Barbara, as you already know, before we start. I am going to interview you in a quite non-traditional way by asking you 15 questions, both common and uncommon. I would also ask you to try to answer them as spontaneously as possible, please.                                              
Barbara Engelhard: No problem.                                                                                                               
Lydia: Okay, so this is my first question for you:
1) Are you a night owl or an early bird? 
Barbara Engelhard: Yes, I'm definitely a night owl.
2) Where do you get your inspiration for your art from? 
Barbara Engelhard: From everyday things, rituals and the people that surround me.
3) Do you have any artistic role models? 
Barbara Engelhard: Tino Sehgal, whose artworks often don't require any material support and whose art-actions are often temporary in character. Marina Abramović as well, who has been pushing boundaries, and in particular, testing physical limits.
4) Do you get angry about criticism? 
Barbara Engelhard: No, that belongs to art. Art challenges and gives new perspectives.
5) What are you proud of? 
Barbara Engelhard: My Hobby is my work, and my work is my hobby.
6) Where would you like to be exhibited once in your lifetime? 
Barbara Engelhard: In a "real" museum. 
7) What is your favourite place and your favourite part of Fürth? 
Barbara Engelhard: The Wiesengrund that surrounds almost half of Fürth and the city centre with its old houses.
8) What is your favourite dish? 
Barbara Engelhard: Lasagne and sweet desserts.
8) What do you always have at home in the fridge?
Barbara Engelhard: Cheese.
10) Who would you definitely not want to sit at a table with?
Barbara Engelhard: With those people I normally have nothing to do with. 
11) What character traits do you appreciate or value in others?
Barbara Engelhard: Honesty, curiosity, and open-mindedness.
12) How do you relax?
Barbara Engelhard: By walking along the Wiesengrund and by making my art.
13) Where is your next trip going to be? 
Barbara Engelhard: One day I would like to travel to Japan.
14) What dream would you like to fulfill?
Barbara Engelhard: To take a journey around the world.
15) Life is too short to… 
Barbara Engelhard: To not want to risk anything and not trying to fulfill your dreams.
Lydia: Thanks for taking time and for having me, dear Barbara.
Barbara Engelhard: My pleasure!
Additional info about Barbara Engelhard:
Barbara Engelhard, born 1974 in Nuremberg, studied classical painting for her bachelor's degree and art in public spaces for her master's degree at the AdBK Nürnberg (Academy of Fine Arts Nuremberg). Today she is curator of Nuremberg's annual event, "Blue Night – The Long Night of Art and Culture" in which she herself has participated four times in 2011, 2012, 2014 and 2017 when she illuminated the Imperial Castle of Nuremberg.  Alongside this, she is a mother to three children, although Barbara does not like to make a big issue about motherhood, as her male colleagues are generally not asked about such issues.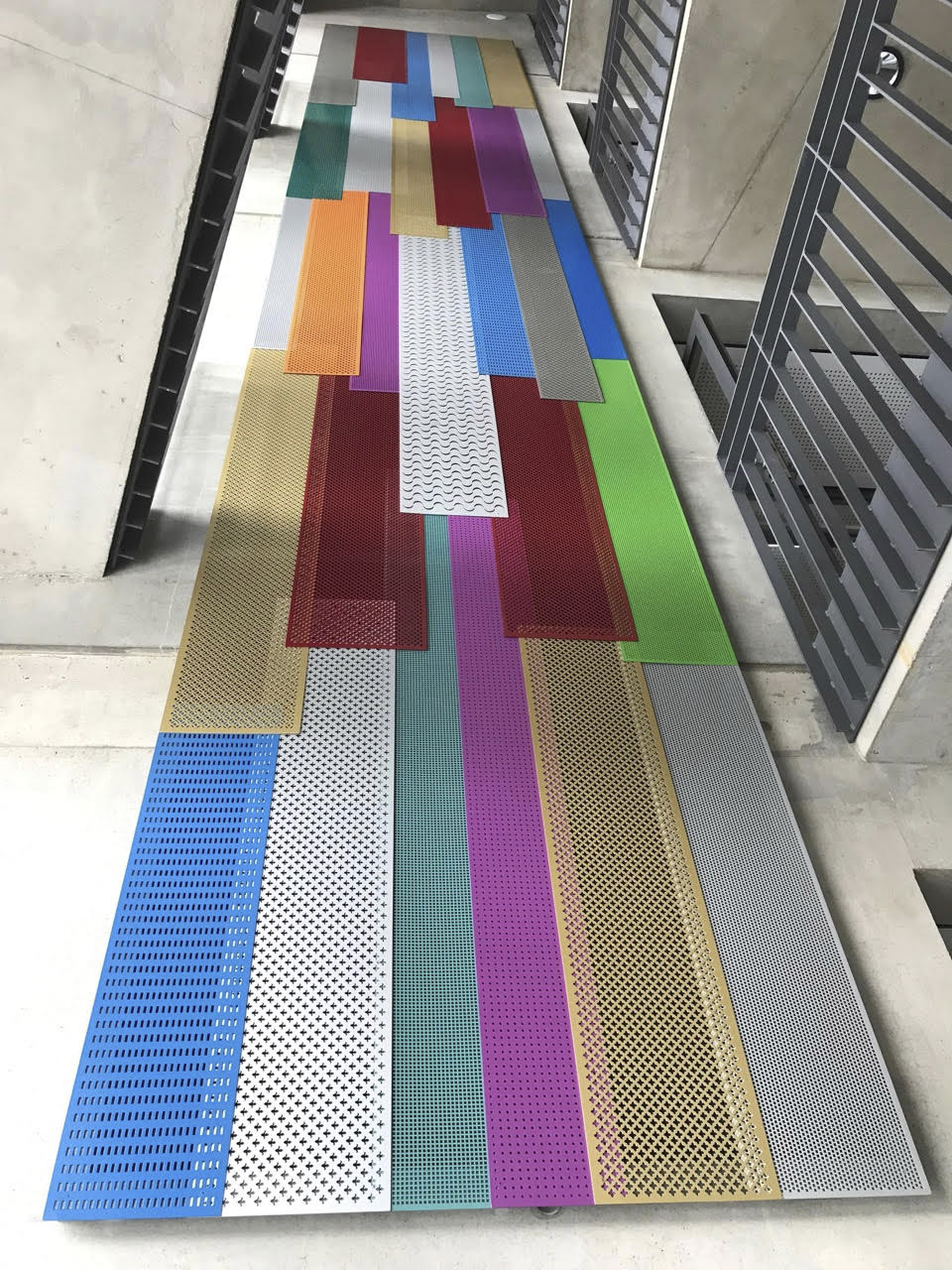 She is a big fan of East Asian cultural productions and finds lots of inspiration in Mexican folk art as well as African art. Her own artistic work is colourful, innovative, and international. She prefers to work with three basic materials – chairs or benches, all kinds of ribbons and tapes, as well as with perforated plates for some time. Seating furniture is especially suitable for her participative art projects. As for the textile materials, Engelhard loves ribbons and tapes, because they are flexible, easy to pack into luggage, and can be readily used both for interactive works of art and in large installations both indoors and outdoors. 
Her art installations create new social environments in public space, giving it an experiential dimension which has a poetic quality. "One could say that public space is given its true purpose through poetry." Barbara Engelhard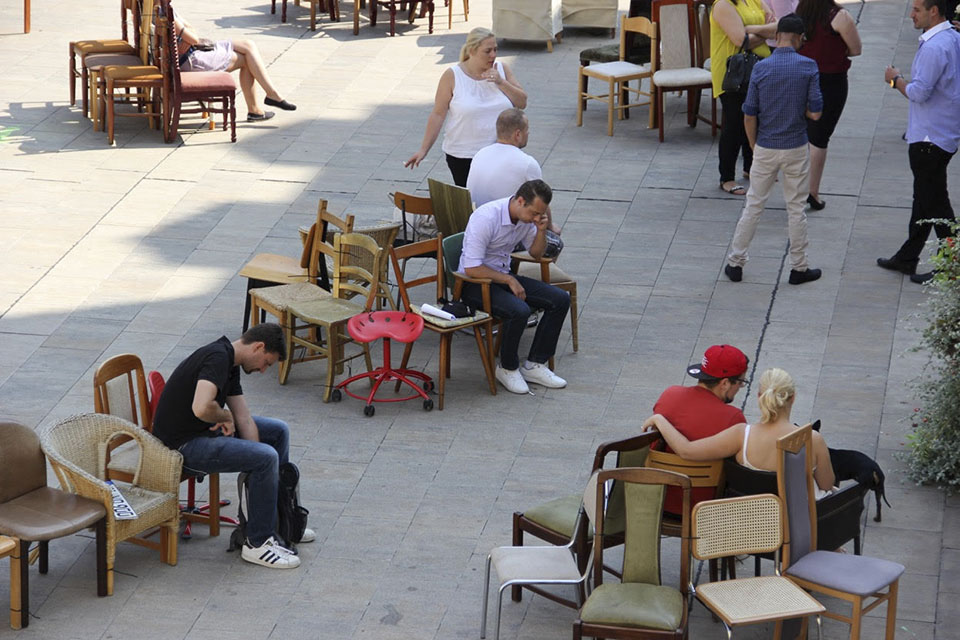 Generally, she neither produces art for its own sake, nor does she do it for self-fulfillment. Rather, she does it for others, especially for those who might have no idea about art. In her art projects it is often possible to participate yourself and in doing a passive viewer becomes an artist and co-creator. This includes interactive art installations in public spaces where she invites people to participate in her art. One such successful project called "Komm und setz dich!" (English translation: "Take a seat!") took place in 2016 in Würzburg and 2017 in her home city, Fürth. Having collected almost 500 old chairs, she placed them in the townhall square and invited people to come together, cease consuming and sit-down. For such art installations no one needs to be an art expert; the experience is direct, open and accessible to everyone. Engelhard herself says she is not a political artist, nevertheless, her projects repeatedly deal with socially critical questions and those of her own everyday actions. Furthermore, she likes to share her performances with strangers.  Her first performance work in 2008 – "Feiern mit Fremden" ("Partying with Strangers"), engaged strangers in her birthday celebration. She also gives art courses in various places and teaches people of all age groups, from little children to the elderly. 
Her exhibitions include:  at Ortung VIII – Kunstbiennale Schwabach (2013), Kunstvilla Nürnberg (2014), Kunstraum Sigismundkapelle, Regensburg (2015), Kunstverein Würzburg (2016), Dom Norybersky, Krakau und Krakauer Haus, Nürnberg (2016), Kunstverein Zirndorf (2017), Shenzhen Fine Art Institute, China (2018), Kunst am Bau – Peter-Vischer-Schule, Nürnberg (2019) and Kreis Galerie, Nürnberg (2020). 
More about Barbara Engelhard: 
http://www.barbarashop.de
https://www.facebook.com/barbara.engelhard.3
http://www.kunstvereinkohlenhof.de
contact:
M: +49 179 5935018
E-Mail: mail(at)barbarashop.de
#art #artinpublicspaces #contemporaryart #blauenacht #blauenachtnuernberg #consumption-freezones #glittering #coloursandlines #interactiveart #performanceart #strangers #tapeart