Places to visit not far from Nuremberg
Bavaria is an amazing place to explore, full of history and hidden forests with a range of time periods to explore, lots of castles and preserved ancient civilizations. The wildlife found in the countryside is diverse, including various birds of prey, owls, martens, squirrels, and deer. 
It is important to take time to really explore and understand the area. If moving here isn't an option for you, come here for a couple of trips! If you manage to explore the area, it is worth the effort. Being here for a second year really helped me to understand the region much more. I recommend getting out on some hikes with groups like Internations or English Stammtisch Nuremberg. 
1. Felsengarten Sanspareil
The Felsengarten Sanspareil gives the feeling of a secret garden, housing castle ruins and stone garden features, interspersed with natural rock formations and native trees, covered in mature populations of mosses. The castle ruins date to 1300, while the rock formations were placed 250 years ago by the previous owners of Felsengarten Sanspareil, for private enjoyment. This provides a mixture of romantic garden features of pre-industrial times, along with castle ruins and natural moss-covered boulders, encapsulating the magical feeling of wandering through a timeless forest landscape.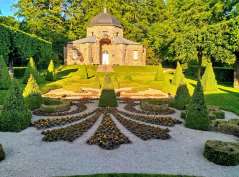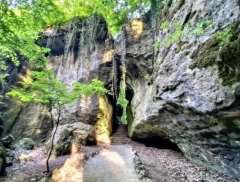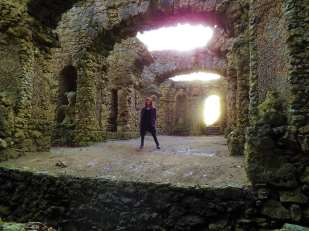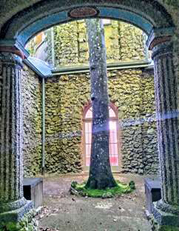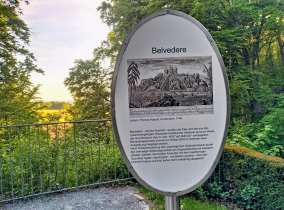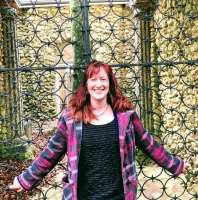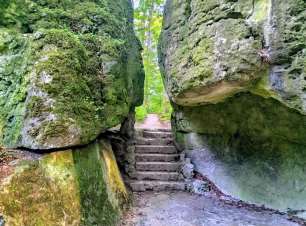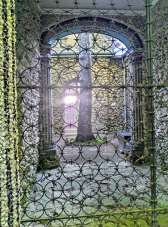 2. Frog pools at Schloss Dennenlohe
Schloss Dennenlohe is a captivating garden of 26 hectares, owned by Baron Süsskind. The most obvious animal species in the gardens are the massive, European common frogs (Rana temporaria). Their loud mating choruses make the visit unique, along with the unusual temples and densely packed waterlilies. This was a unique and enjoyable place to visit, with a great restaurant too.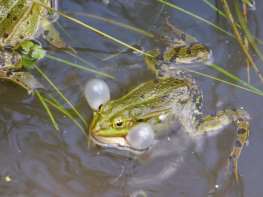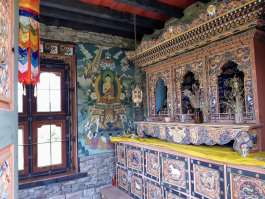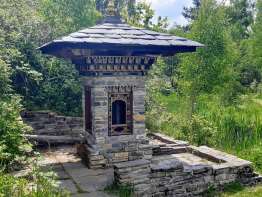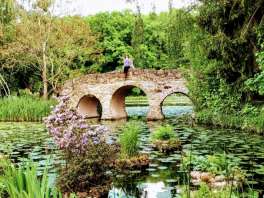 3. Kloster Gnadenberg
Of all locations in Bavaria, Kloster Gnadenberg reminded me the most of North Wales because of the sheep, climbing, castles, tree decorations and relaxed countryside. The town of Kloster Gnadenberg puts an enormous amount of time into their Easter decorations, including hand painting an array of unique designs on Easter eggs which are exhibited throughout the town centre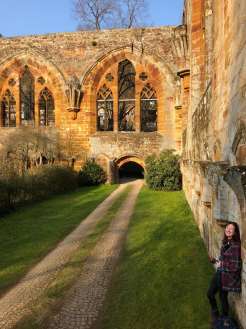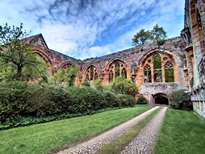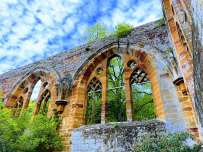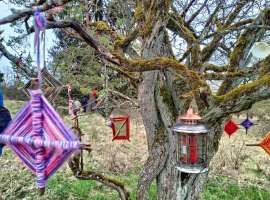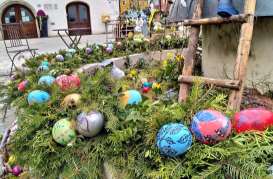 4. Dinkelsbühl
Dinkelsbühl is a personal favourite of mine, with quaint, picturesque streets. A walk around the romantic, Roman town walls feels like a trip back in time. The original castle, known as 'Tewtscher Hof', was built around 1350 and later replaced with an Italian, "Baroque style" around 1764, which explains the decorative and theatrical roofing styles. Follow the romantic Roman road with an atmospheric walk along the town's natural lake, and you can soak in the area's tranquillity.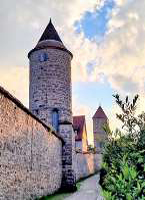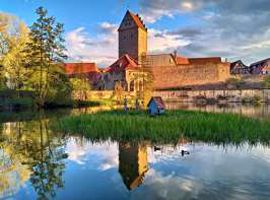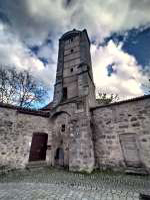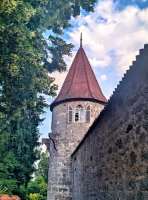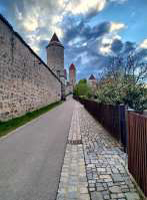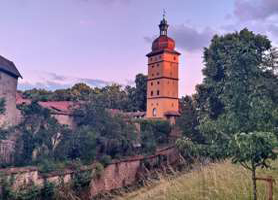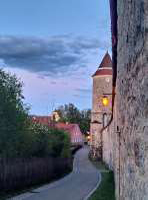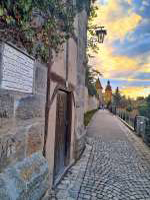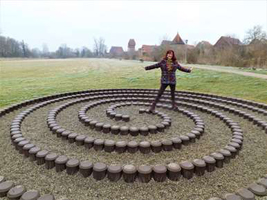 5. Happurger See
Happurger See is one of the first places in Franconia that I adventured to for climbing. The views over Happurger See on the walk up to the crags are simply breathtaking. Climbing enthusiasts can find some challenging and interesting overhangs, as well as some relatively challenging inclines for intermediate hikers. For those interested in history, the start of the walk contains an incomplete, underground Nazi aeroplane engine factory.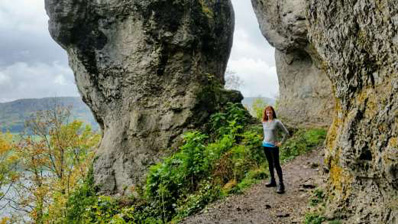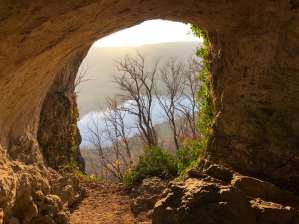 About 5km further east there is also the Acropolis of the Celts near Mittelburg. The term "Mittelburg", is a Celtic word, meaning a "mid-hill", referring to a hill between two others of mid-height or used by two communities¹. There are many ancient Celtic forests and cave systems around Mittelburg worth exploring.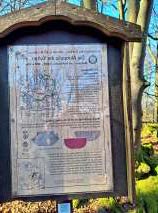 6. Wildpark Hundshaupten, Egloffstein
Set out in the countryside, the drive to Egloffstein Nature reserve, known as "Wildpark Hundshaupten" is a beautiful drive through winding country roads. The concept of the nature park is based on endemic species of Germany, including the Eurasian lynx (lynx lynx), The Eurasian wolf (Canis lupus lupus), as well as a range of species of deer, wild boar, and goats. This makes the nature park relevant and educational for young people.There are efforts to revive the Eurasian lynx in Germany, which was exterminated the country in 1850. It was reintroduced to the Bavarian Forest and the Harz area in the 1990s, as well as migrating into the country at the French and Czech borders. Similarly, in 1999, 105 wolf packs were recorded in Germany, across several states, having previously been wiped out in the mid-1800s, which is around 100 years later than the last recorded wolf in the UK (scholars debate this timeline due to the fact that they are said to have been observed in Scotland in 1743).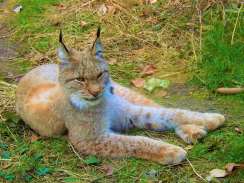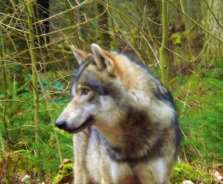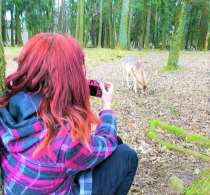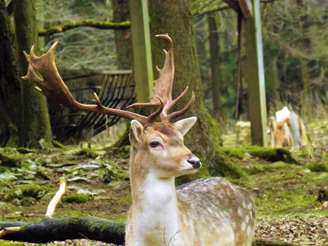 a) Eurasian lynx (lynx lynx) b) The Eurasian wolf (Canis lupus lupus) c-d) A male fallow deer (Dama dama).
7. Schwarzachschlucht by Schwarzenbruck
Schwarzachschlucht by Schwarzenbruck is the location of one of my most exciting nature finds…. a smooth snake or Schlingnatter. The initial identification process was lost in translation; however, it was confirmed to be a Coronella Austriaca. The Schwarzachschlucht area consists of beautiful stony outcrops and wild flora and is very biodiverse for a site so close to Nuremberg!Other commonly observed wildlife in the area include the European squirrel (Sciurus vulgaris), which is the same species as the native red squirrel of the UK; however, there is a black melanistic variety found in the gardens and forests of Bavaria. Stone martens (Martes foina) are another I have had the privilege to encounter since moving to the area, they are similar to pine martens in the UK. As I had the misfortune to discover, they are notorious for chewing through the cables of car engines. This happened three times before I ordered protected cables.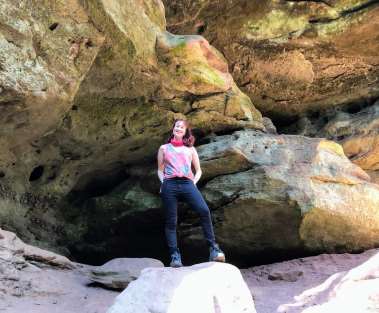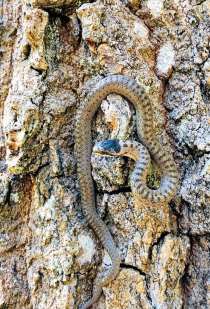 Schwarzachschlucht by Schwarzenbruck.
A smooth snake (Coronella Austriaca) 
8. Hirschbach
Hirschbach is full of surprises and hidden caves, scattering the landscape. It was an unsuspecting climber's paradise full of potential challenging routes. If you enjoy climbing, bouldering, or simply walking through beautiful forests scattered with ancient trees, stony outcrops, and mossy landscapes, then I suggest Hirschbach be top of the list! In fact, the "Pegnitz to Hirschbachtal" region is scattered with an array of amazing caves.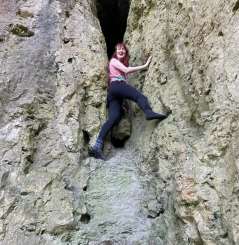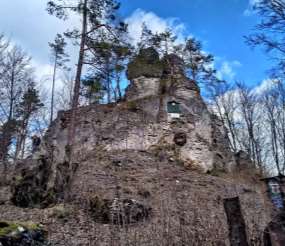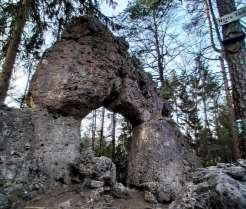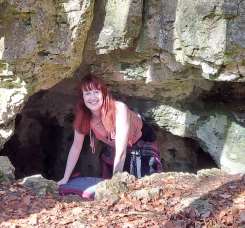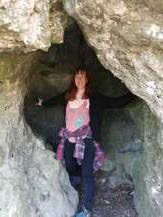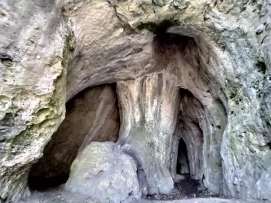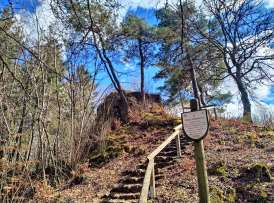 Hirschbach
9. Streitberg and Bing Cave
Streitberg has a combination of forests, boulders, and gardens, along with an incredible panoramic view and is a state-approved Spa town known for its clean air. It is also a popular area for climbing, canoeing and fishing.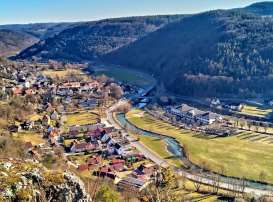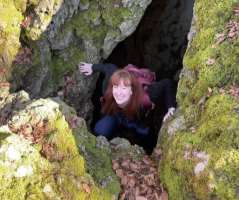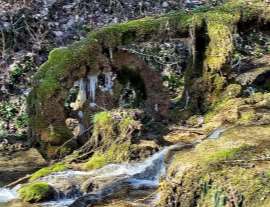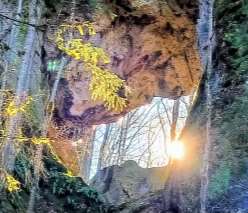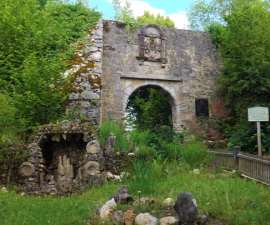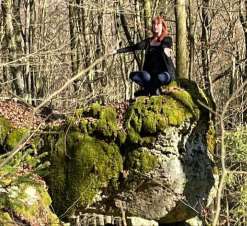 Streitberg, including the gardens of Burgruine Streitburg
The Binghohle cave network is a gem found hidden along an unsuspecting hiking path. Tours happen most days throughout the year and allow you to experience some fascinating structures, including the captivating, colourful stalactites and stalagmites.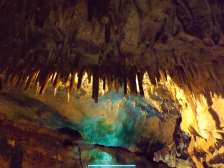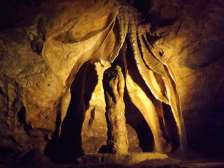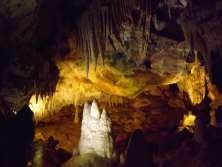 10. Waischenfeld
Waischenfeld was a truly, surprising place, with pathways completely hidden from view of the main road by dense forest. This was a place of amazing cave networks, after some effort climbing to the top the we were rewarded with incredible views from above. As well as spectacular views and hiking paths, Waischenfeld has even been named as a state approved "Climatic health resort", due to its high air quality!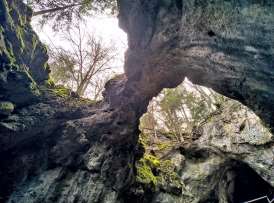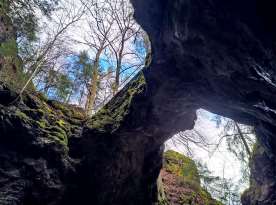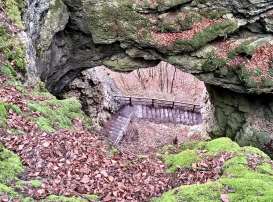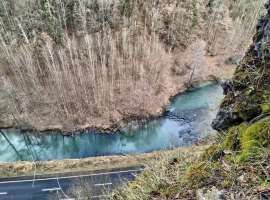 Acknowledgements 
I would like to highlight my great gratitude to my Internations hiking group, for filling me with local knowledge and organising many of these walks. I am particularly grateful for the wonderful walks during cold months that kept my happiness and well-being up. I am especially thankful to my Kings of Bavaria; Matthias Frishe and Antonio Sanua, as well as to Handan Elitok and Samantha Hsu for their great company, insights, and cake! My time in Bavaria would not have been as amazing without you!
Robb, G, 2013, The Discovery of Middle Earth: Mapping the Lost World of the Celts, Macmillan Publishers Limited