Artist of the Month March 2021
Date:  11/02/2021
Place: BOGI NAGY GALLERY & ATELIER
Schlehengasse 15
90402 Nürnberg
What happens when the Hungarian temperament mingles with the authentic Franconian zest for life? A new cosmos emerges – Bogi Nagy's World. The first time I came across Bogi's work was at the art fair "supermArt" at AEG in Nuremberg in 2015, where she exhibited her "Wunder Frau" (Wonder Woman) and her "Captain Franconia". Over the years, we met at varying exhibitions , many private showings and vernissages. On a warm, late summer evening in 2018 at the Z-Bau beer garden, we were introduced by a mutual friend and finally got to know each other much better. She already had her own unique artistic style, which she developed and worked on. So, on a cold, sunny afternoon in February 2020, we finally met again at her new atelier, in a 500-year-old antique half-timbered house in the inner city. Spoiler: my personal highlight from her studio, beside the artwork, is the restroom with disco ball décor.
Lydia: Hello and good afternoon Bogi; it's so good to see you again, and thanks for inviting me and taking the time for this interview.
Bogi Nagy: It's good to have you, Lydia. I am delighted to have been selected as artist of the month for the English Post community!
Are you a night owl or an early bird?
Bogi Nagy: I'm absolutely a night owl; I love working through when the city is asleep.
Where do you get your inspiration for your art from?
Bogi Nagy: I am my own muse.
Do you have any artistic role models?
Bogi Nagy: I am inspired by female artists with strong personalities, such as Niki de Saint Phalle and Frida Kahlo.
Do you get angry about criticism?
Bogi Nagy: No, not really… everyone has different perceptions, and therefore art is relative.
What are you proud of?
Bogi Nagy: I'm proud of my determination.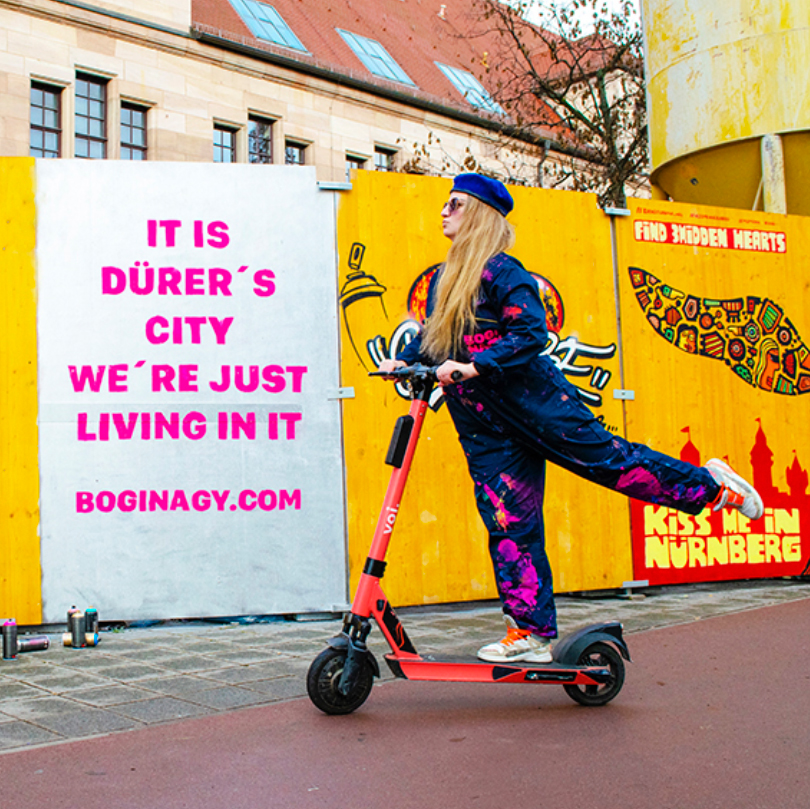 Where would you like to be exhibited once in your lifetime?
Bogi Nagy: At the Giardini Botanici Hanbury (Botanic Garden Hanbury), also known as Villa Hanbury, which is about 40 kilometres away from Nice on the Côte d'Azur.
What is your favourite place and your favourite part of town in Nuremberg?
Bogi Nagy: My absolute favourite place is my unique art studio. In addition, I like special places that enjoy cult status like Meisengeige, Café Bar Wanderer or the ballroom of Bäckerhof. Generally, I'm a huge fan of the Old Town of Nuremberg.
What do you always have at home in the fridge?
Bogi Nagy: Best quality cheese and Franconian beer for my husband.
What is your favourite dish?
Bogi Nagy: Kettle goulash (Kesselgulasch), a typical Hungarian culinary speciality, passed down from my father to me, is unbeatable.


Who would you definitely not want to sit at a table with?
Bogi Nagy: Depends; who is sitting at the table. 
What character traits do you appreciate or value in others?
Bogi Nagy: I appreciate people with courage who are, at the same time, cheerful and heartwarming and go through life with an inspiring attitude and a positive mindset.
 How do you relax?
Bogi Nagy: I do what I love! So I'm relaxed when I 'm fully immersedin my art.
Where is your next trip going to be?
Bogi Nagy: Skyspace-Lech, a walk-through piece of conceptual art designed by US artist James Turell, located at Tannegg/Oberlech in the province of Vorarlberg in Austria. 
What dream do you want to fulfil yourself?
Bogi Nagy: To realize my own artist colony, according to my building plans and art teachings. I wrote my bachelor's thesis about it. I am currently applying for the necessary funding. So, keep your fingers crossed for me!
Life is too short to…
Bogi Nagy: …work for someone else's dreams.
Lydia: It was wonderful meeting you today, and I really appreciate that you set aside time for this interview.
Bogi Nagy: My pleasure. 
Additional info about Bogi Nagy:
The Hungarian-born artist has been living and working in Nuremberg for about ten years now. Originally, she had planned to stay here until her studies were finished, but then she fell in love. And so, the Franconian metropolis has become the centre of life and also her second home. She has received her bachelor's degree in fine arts and graphic design at the art school Akademie Faber-Castell in Stein, near Nuremberg. Bogi, who speaks several languages, has a very cosmopolitan mentality and a wide circle of mainly artist friends.
Albrecht Dürer. Dürer, whose father was a goldsmith of Hungarian heritage, is not only her half-countryman but is also a recurrent theme in her works and a source of inspiration. For example, her prints "Herr und Frau Dürer" (Mr and Mrs Dürer) depict Dürer and his wife Agnes as iconographic models of the late modern hipster scene. Just as in her slogan: "It's Dürer's city we are just living in it" . Furthermore, she isn't afraid at all to experiment creatively with the (cultural) insignia such as the Imperial Castle of Nuremberg, the famous "Schäufele" (a franconian delicacy). She likes to overtake this kind of "internalized DNA" of Nuremberg and interprets it in her own artistic way. "Last night the Schäufele saved my life" is not only the title of one of her paintings but has also been the title of her last public exhibition in 2020.
She loves to work with different types of material, styles and techniques. Besides text-based illustrations, she also makes oil paintings, abstract art, sculptures and mixed media artworks. Augmented Reality elements are regular features in her work and allow her to create new artistic dimensions by linking classical with digital art and making it visible through devices like smartphones. A playful examination of colour, shape, and optical illusions with a touch of humour and a lot of woman power are characteristics of her artistic creativity. In her art, she touches upon topics related to the battle of sexes and the gender dichotomy. Bogi says about herself: " As an artist, I have the duty and the right to break boundaries, to ignore and overcome deadlocked structures". Her aim and intent is to convey emotions and to create a new cosmos with a lot of dedication, which is orientated on the keen instincts and intuitive needs of human beings. In contrast to many other artist colleagues, she has never worried about running out of ideas as they just tend to pop up, out of the blue. For this reason, her sketchbook is her personal bible, and her art is something that lives inside her. Therefore, "ART" is her whole life.
So far, she has been exhibited among other places at; Kulturscheune der Altstadtfreunde, Nuremberg (03/2020); Albertina Museum, Vienna (12/2019); Arts Museum at Cluj Napoca, Romania (09/2019); Forward Festival, Vienna (04/2019); Realities at Sofia, Bulgaria (02/2019); Espai Gallery at Barcelona, Spain (12/2018); KEA European Affairs at Seoul, South Korea (11/2018); Creativity & 4 Design Week at Chengdu, China (11/2018); "What's Next" at Vilnius, Lithuania (11/2018); Design Week, Vienna (10/2018); ARC Plakat Award, Budapest, Hungary (09/2018); Stroke Art Fair, Munich (05/2018); Gallery Eisdiele, Nuremberg (11/2017) supermART, Nuremberg (2015 – 2020).
More about Bogi Nagy – pop art artist:
contact: hello@boginagy.com
Official website: https://boginagy.com
FB: https://www.facebook.com/boginagysworld
Insta: https://www.instagram.com/boginagysworld
Hashtags:
#art #kunst #design #albrechtdürer #durer #captainfranconia #contemporaryart #boginagy #hungarianartist #ungarischekuenstlerin #lastnighttheschäufelesavedmylife #popart #womanpower #wonderwoman #wunderfraa #zeitgenössischekunst #yeah