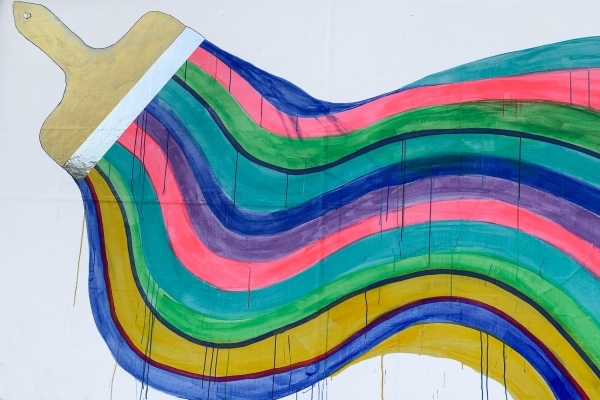 Exhibition opening: Barbara Engelhard – Colourful Passion
An English friend of Barbara, with whom she spoke about the title of her latest exhibition, drew her attention to something: if you pronounce the word "colourful" silently, the same lip movements result as with the phrase "I love you". In a way, this wonderful congruence can be transferred to the entire oeuvre of the Fürth artist.
Barbara Engelhard, born 1974 in Nuremberg, studied classical painting and art in public spaces at the AdBK Nürnberg. She lives and works in Fürth. Since 2018 she is curator of the art competition of the "Blaue Nacht" Nuremberg. She develops her works from the appropriation and recoding of everyday materials. She uses mainly coloured silk ribbons and tapes, colourful sticky markers or artificial grass carpets in various structures and colours. If you are curious to learn more about the artist and her work read the detailed interview with her and visit her website.
Poster motif: Barbara Engelhard, Title: In the colour flow, 2021; Plakatwandgestaltung; Photo: Jutta Missbach © VG Bild-Kuns