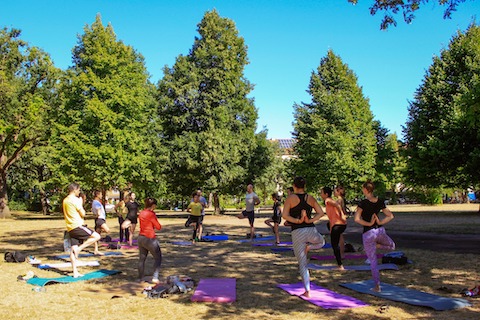 Yoga in the Park
Join us for Yoga in the Park which will now take place weekly through the summer. Please check here for occasional cancellations due to poor weather or other reasons. 🧘‍♀️☀️
Immerse yourself in the serene green surroundings of Rosenau Park as we come together for a revitalising yoga experience.
Led by one of our skilled instructors, this session will encompass a blend of Hatha, Ashtanga, and Kriya yoga, ensuring a harmonious balance of mind, body, and spirit.
We will gather at Cafe Kiosk at 9:45am, and the class will begin at 10am.
To fully enjoy the session, kindly bring along a water bottle, your trusty yoga mat (or a towel/blanket), and attire that allows unrestricted movement.
In the spirit of inclusivity, we aim to make this class accessible to all, so while it's not free, we ask you to pay what you can—donations will be collected at the end of the session.
Afterwards, we invite you to join us for a delightful post-yoga coffee/beer and lunch/cake at Cafe Kiosk.
Please feel free to reach out if you have any questions or require further information.
Namaste