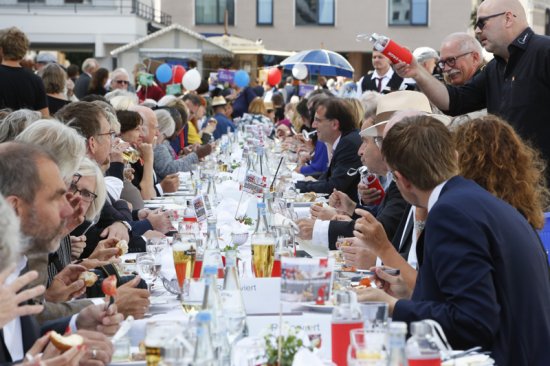 Nürnberger Friedenstafel (Nuremberg Peace Table) 2022
The "world's longest Peace Table" will take place on Sunday, May 15th held between 1:00 pm. and 4:00 pm., following the presentation of the Human Rights Award. The Uyghur activist Sayragul Sauytbay – who made known the conditions in Chinese detention and re-education camps for ethnic minorities in Xinjian public – has been awarded the Nuremberg Human Rights Prize 2021. The price ceremony takes place beforehand in the Nuremberg Opera House.
The Peace Table stretches from Hallplatz and Kornmarkt to the Dr. Kurt Schumacher Straße and along the Way of Human Rights. Since 1999 it has been a tradition for the people of Nuremberg to meet at a table for a meal, which is more a kind of an outdoor picnic, after the International Human Rights Award has been presented. The City of Nuremberg extended a warm invitation to all citizens to celebrate this special day together by joining the "Peace Table" and to set an example for peace and human rights.
How to reserve your table?
A fee of 10 euros per table is due for each table reservation (8 seats each). Only whole tables can be pre-ordered. These are reserved in the name of the ordering person. Pre-orders (collection or online) of the tickets  are only possible at the Kultur Information (Königstraße 93, 90402 Nürnberg) of the city of Nuremberg.
Photo: Stadt Nürnberg/ ©Rainer Wölzlein