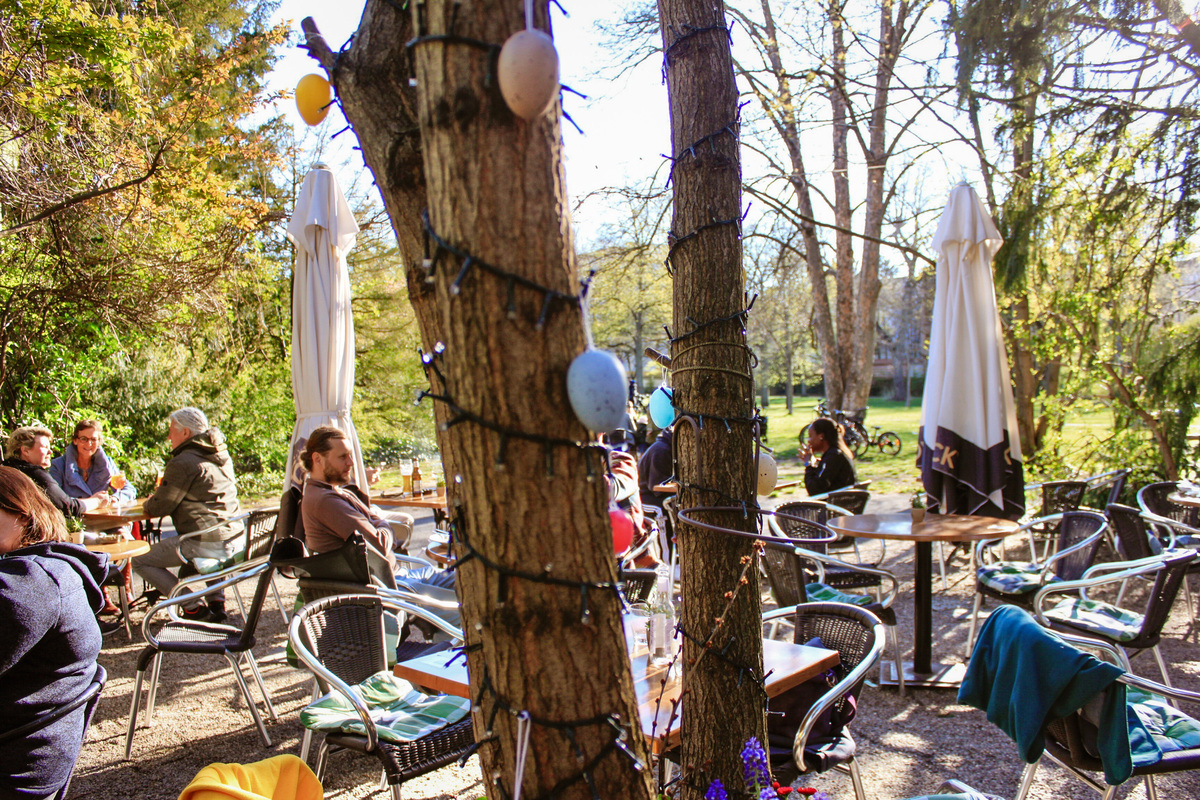 English Stammtisch Nuremberg intermediate May event at Cafe Kiosk
Join us for a pleasant come together and 🍻🍹drinks at Café Kiosk in Rosenau Park for the next English Stammtisch Nuremberg meet up this Thursday, May 12th at 7.30 pm. You'll have the chance to refresh and improve your English skills or you can be a good example for the group if English is your mother tongue. If you register for our event but find you cannot join us, please cancel your registration.
Photo motif ©Alice Lucas
𝗪𝗵𝗮𝘁 𝗶𝘀 𝗘𝗻𝗴𝗹𝗶𝘀𝗵 𝗦𝘁𝗮𝗺𝗺𝘁𝗶𝘀𝗰𝗵 𝗡𝘂𝗿𝗲𝗺𝗯𝗲𝗿𝗴?
An opportunity to meet up and socialise with friends and also meet new people. Our common language is English, but as we have a wide range of nationalities in attendance, people also like to chat in German, Spanish, French and other languages!
𝗪𝗵𝗼 𝗰𝗮𝗻 𝗮𝘁𝘁𝗲𝗻𝗱?
The English Stammtisch Nuremberg is open to everyone; both international people and locals! We welcome all ages, genders, nationalities etc. You can attend regularly, or just occasionally. We're always happy to see you!
𝗖𝗮𝗻 𝗜 𝗰𝗼𝗺𝗲 𝗮𝗹𝗼𝗻𝗲?
Yes! Some people are regulars and already know each other, and many people come for the first time and leave with new friends!
𝙋𝙡𝙚𝙖𝙨𝙚 𝙣𝙤𝙩𝙚: 𝘝𝘪𝘴𝘶𝘢𝘭 𝘮𝘦𝘥𝘪𝘢 𝘳𝘦𝘤𝘰𝘳𝘥𝘪𝘯𝘨𝘴 (𝘱𝘩𝘰𝘵𝘰𝘨𝘳𝘢𝘱𝘩𝘺 𝘢𝘯𝘥 𝘷𝘪𝘥𝘦𝘰) 𝘰𝘧 𝘱𝘢𝘳𝘵𝘪𝘤𝘪𝘱𝘢𝘯𝘵𝘴 𝘮𝘢𝘺 𝘵𝘢𝘬𝘦 𝘱𝘭𝘢𝘤𝘦 𝘥𝘶𝘳𝘪𝘯𝘨 𝘵𝘩𝘦 𝘦𝘷𝘦𝘯𝘵. 𝘛𝘩𝘦 𝘷𝘪𝘴𝘶𝘢𝘭 𝘮𝘢𝘵𝘦𝘳𝘪𝘢𝘭 𝘮𝘢𝘺 𝘣𝘦 𝘶𝘴𝘦𝘥 𝘧𝘰𝘳 𝘱𝘳𝘦𝘴𝘴 𝘳𝘦𝘭𝘦𝘢𝘴𝘦𝘴 𝘢𝘯𝘥 𝘱𝘶𝘣𝘭𝘪𝘤𝘪𝘵𝘺 𝘮𝘢𝘵𝘦𝘳𝘪𝘢𝘭 𝘢𝘵 𝘸𝘸𝘸.𝘦𝘯𝘨𝘭𝘪𝘴𝘩𝘱𝘰𝘴𝘵.𝘥𝘦 𝘢𝘯𝘥 𝘮𝘢𝘺 𝘢𝘱𝘱𝘦𝘢𝘳 𝘰𝘯 𝘍𝘢𝘤𝘦𝘣𝘰𝘰𝘬, 𝘐𝘯𝘴𝘵𝘢𝘨𝘳𝘢𝘮 𝘢𝘯𝘥 𝘛𝘸𝘪𝘵𝘵𝘦𝘳. 𝘗𝘭𝘦𝘢𝘴𝘦 𝘭𝘦𝘵 𝘵𝘩𝘦 𝘰𝘳𝘨𝘢𝘯𝘪𝘴𝘦𝘳𝘴 𝘬𝘯𝘰𝘸 𝘪𝘧 𝘺𝘰𝘶 𝘥𝘰 𝘯𝘰𝘵 𝘸𝘪𝘴𝘩 𝘵𝘰 𝘢𝘱𝘱𝘦𝘢𝘳 𝘰𝘯 𝘴𝘰𝘤𝘪𝘢𝘭 𝘮𝘦𝘥𝘪𝘢.