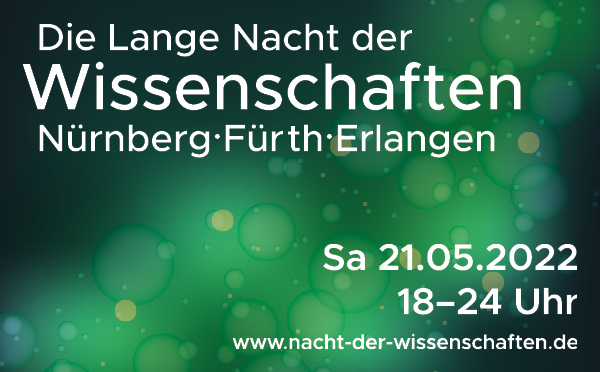 Die Lange Nacht der Wissenschaften 2022 in Nürnberg, Fürth and Erlangen
Die Lange Nacht der Wissenschaften (The Long Night of Sciences) celebrates its 10th anniversary this year. On Saturday 21st May, 300 program partners invite you to see, marvel, and understand from 6pm-midnight.
The 10th Long Night of Science is a major event with 750 program items at 130 different venues in Nuremberg, Fürth and Erlangen. The Long Night of Sciences is one of the largest science-communication events in the Nuremberg metropolitan region and the largest Long Night of its kind in Germany.
More than 30,000 people are expected to visit the various scientific institutions in the region, with tours through the laboratories and institutes giving the general public the opportunity to discover what researchers at FAU, WiSo Nuremberg, Max Planck & Co are currently working on.
It is also an event for families. During the afternoon between 2pm–5pm there will be approximately 60 things to discover in the children's program.
Long Night tickets are available to print at home. Tickets are available online and at all the usual booking offices.
Further information about The Long Night of Science program is available at www.nacht-der-wissenschaften
Hourly Schedule
Saturday
18:00 Uhr

-

00:00 Uhr

Die Lange Nacht der Wissenschaften