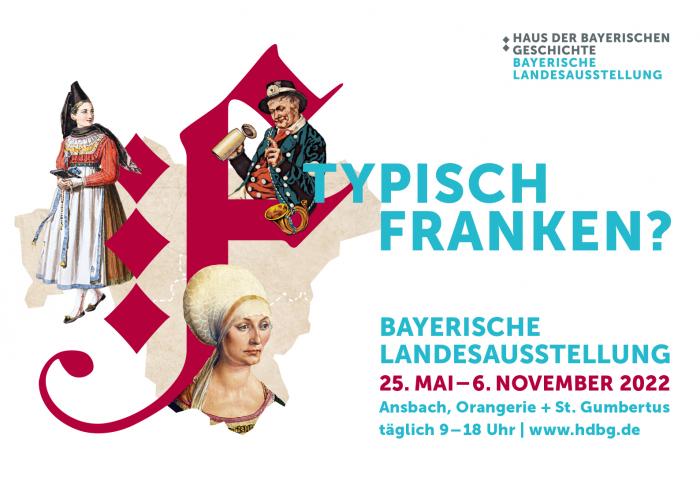 Bavarian State Exhibition: "Typisch Franken?" in Ansbach
Bratwurst, beer, gingerbread and Dürer? Is that typical Franconian? This year's Bavarian State Exhibition in Ansbach, which will take place from 26th May to 6th November 2022, wants to get to the bottom of this question.
Exciting facts about Franconia are brought closer to visitors in an entertaining and interactive way – and there is also a lot to do visually: in the Spessart, guests can play a short film from the days of robbers by pressing various buttons. In Coburg, the center of the Reformation, guests can look back on the year 1530 and Martin Luther. The Nazi period as a dark historical chapter is not left out either.
The exhibition "Typical Franconian?" is structured like a hike through the individual Franconian regions: the exhibition spans Ansbach, Würzburg, the Fichtel mountains, the Bamberg monastery country, the Spessart and Aschaffenburg, the evangelical Coburg, and finally Nuremberg and Fürth all the way to Bad Kissingen.
At the end of the exhibition, each guest has the opportunity, in an interactive survey, to choose one of twelve terms that best reflects the typically Franconian identity. From diversity to traditional costumes to half-timbered houses and dialect, everything is here.
Bayerische Landesausstellung 2022 "Typisch Franken?" May 26th to November 6th, 2022 in Ansbach, in the Orangerie and in the town church St. Gumbertus.
Further information can be found on the website: "Typische Franken?"
Photo: Bayerischen Landesaustellung 2022 "Typisch Franken?" |©Haus der Bayerischen Geschichte