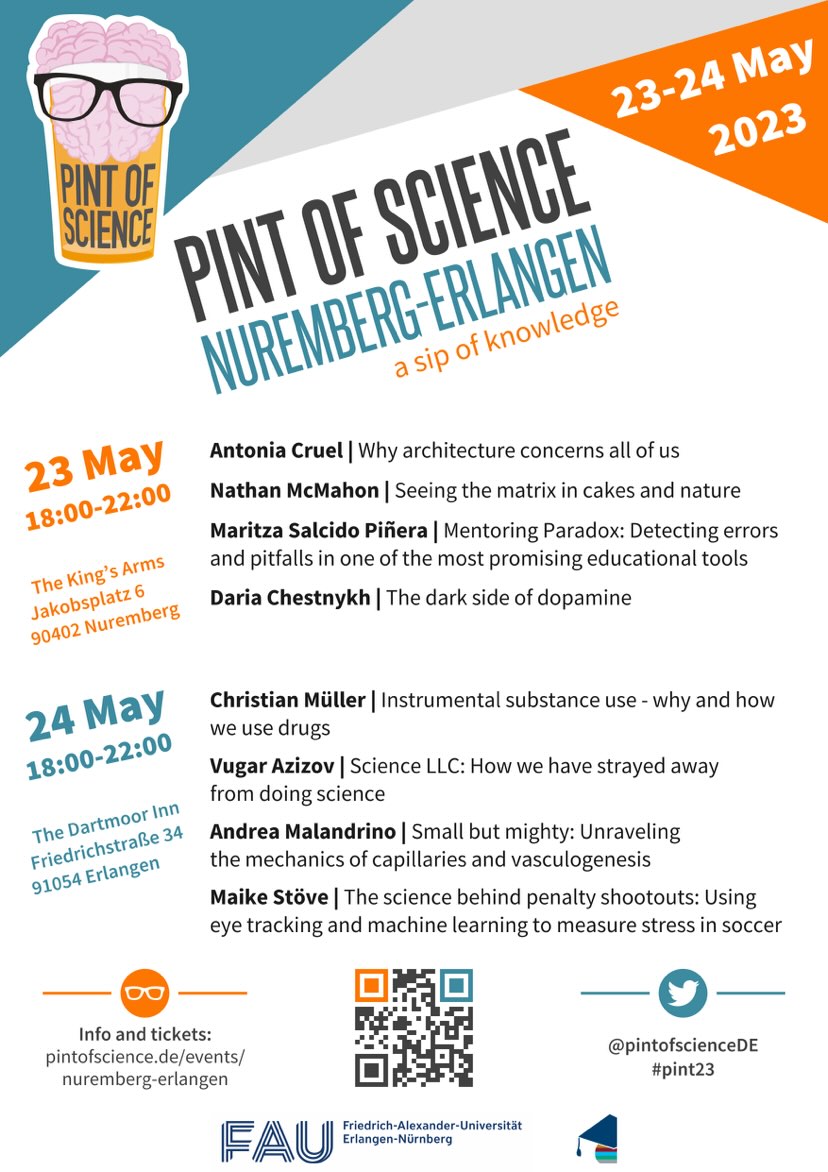 Pint of Science
Join us for the annual popular science festival, Pint of Science, coming to Erlangen and Nuremberg for the third year on May 23 and 24, 2023. This worldwide event, now encompassing 26 countries across five continents, aims to communicate the latest scientific developments by bringing scientists and the public together in the fun and informal environment of pubs, cafés, and other public spaces.
The Pint of Science Nuremberg-Erlangen organising team has prepared an exciting two-day programme with speakers from a wide range of fields. On Tuesday, May 23, at The King's Arms in Nuremberg, you will have the opportunity to learn about the hidden societal impact of architecture, discover the dark side of dopamine, or find out what cakes have to do with quantum computing. On Wednesday, May 24, at The Dartmoor Inn in Erlangen, we will explore why we use drugs, dive into the fascinating world of blood capillaries, and ask ourselves whether we have strayed away from doing science.
Each talk will be accompanied by a lively discussion, so bring a pint of curiosity with you! Whether you are a science enthusiast or simply curious about the latest discoveries, Pint of Science is the perfect opportunity to broaden your knowledge and meet like-minded people.
Doors will open at 5:30pm on both days, with talks starting at 6pm. Tickets are only €2.50 per event, and can be purchased online or at the door on the day of the event. You can get your tickets and more information at pintofscience.de/events/nuremberg-erlangen .
Don't miss out on this exciting opportunity to connect with the latest scientific developments and join a community of curious minds at Pint of Science!