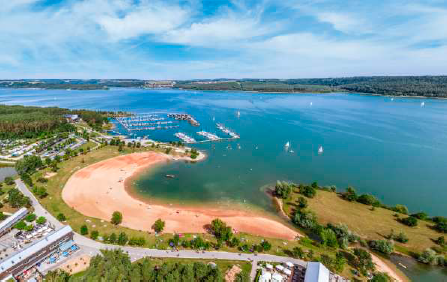 Hike & Chill at Brombachsee Lake
For English Stammtisch our first event will be a "Hike and Chill" excursion to Brombachsee lake, south of Nuremberg.
We'll be walking around the lake, approx. 15 Km, effective walking time about 3 hours. After the walk, there will be a chance to bathe or just chill on one of the beaches. There are also opportunities to visit the nearby woodland adventure park, hire boats or take a ferry trip across the lake. We advise everyone to bring sufficient drinking water and nourishments with them. Refreshments are available at a few locations around the lake.
Only people who are registered through Eventbrite can participate in our group hike, which is limited to 25 people on a first-come, first-serve basis. Register here: https://www.eventbrite.de/e/hike-chill-at-brombachsee-lake-tickets-164656587285
For those who don't want to hike, please feel free to join us at the beach at about 4pm (more details on request). Or if you'd rather spend the whole day chilling and swimming, then why not. We'll meet you again after the hike.
Start time 11:00 am at the south-east corner of the lake by the jetty/boat ramp (49.119708587989564, 10.964069787698412)
A group travelling by train will be meeting at Nuremberg central station, platform 5 at 9.30 am.
The RB 16 (59093) train (direction Munich) leaves Nuremberg central station at 9:39 from platform 5 (subject to changes, so please check), arriving in Pleinfeld at 10:11. From the station, it's a 3km, 35-minute walk to the south-east corner of the lake, from where we will begin our hike.
Parking is also available nearby.
We look forward to seeing you there!
In case of poor weather, the activity may be cancelled or postponed.
This is not a guided tour and has no commercial purpose. Participants attend at their own risk. Participants should attend only if they have the required physical fitness.
Visual media recordings (photography and video) of participants may take place during the event. The visual material may be used for press releases and publicity material at www.englishpost.de and may appear on Facebook, Instagram and Twitter. Please let the organizers know if you do not wish to appear on social media.
Next Occurrence
Date

Aug 08 2021

Time

Some people may want to stay longer at the beach. Trains return to Nuremberg all evening.

11:00 am - 6:00 pm